Maternal Health: the beginning of the journey to success
It is a dusty, dry day in Kilifi as a mother walks to the clinic for delivery. Martha* is brave, making this journey despite knowing that the clinics are on strike. For the last 6 weeks in Kilifi, and across Kenya, the government clinic nurses have been on strike, requesting the chance to be recognized as a worker's union. As a result of the strike, nursing staff at the clinics were reduced to only the bare minimum, and all facility activities were fully stopped.
Martha, who makes this brave journey is only 29 years old and has previously lost 3 babies in delivery. Knowing the value of clinic-based deliveries, aided in her decision to walk the 2 miles to the clinic. Previously, she had given birth with the help of a family member, who was unable to help when the birth became complicated. She was visited by a Community Health Worker who is part of the Kilifi Kids program, and it is this CHW who told her of the value of clinic-based deliveries. These deliveries are supported by a nurse who has successfully delivered hundreds of children, and these children are able to receive expert care and even referral to an advanced hospital if they need extra care.
As she arrived at the clinic, she was greeted by the only nurse who is on site during the strike, a young woman named Paris. Even though Paris is supposed to be turning away patients, she is moved with compassion when she sees the mother arrive. She rushes her into the maternity room, and prepares for delivery. After a few moments, we hear the sound of fresh cries of the new-born baby, and a new little baby boy is born.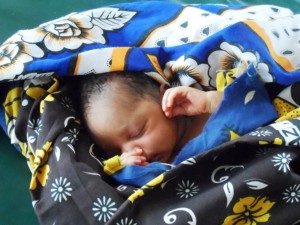 Martha is overjoyed as she sees her son for the first time, and sings the praises of Paris for her health and support. This is the goal we work towards at Kilifi Kids – Seeing mothers and new-born babies born in clean, safe facilities under the care of a well-trained nurse. We are excited to share that the nurses' strike is now over, and we anticipate many stories like this one will be told very soon!