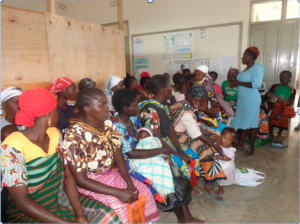 It was 8.30am when I arrived at the Ganze Health Facility and as I walked through the Facility, I noticed a great number of women who were either pregnant, holding infants or struggling to keep their young children still. The small room was packed to the brim and most women hurdled due to lack of seats. The Mother to Child Health (MCH) room was very noisy, as children were crying; some running and others were crawling on the floor. Regardless of this situation, I was welcomed with great excitement once I introduced myself.
The mothers were really co-operative and exhibited a lot of interest and genuine curiosity as we shared a lot concerning the importance of ante-natal and immunization. "What would I do if I missed my appointment to the clinic'' asked Mama Kanze. Thanks to the introduction of CHWs, one of their roles is to remind members of their communities about their appointment dates. We immediately lost ourselves in the discussion of CHWs and their important role in our community and appreciated some interesting facts about the use of technology in rural health care.
At  9.30am the nurses on duty reported and due to time constraints in relation to the large turn out at the clinic, they immediately took to preparation of vaccines by transferring them from the fridge to the smaller coolers. Thereafter they started their daily schedule on immunizations and antenatal attendance. As time went by more mothers came in and were eventually attended to.
I also had the opportunity to talk to one of the nurses in the facility. It was very enlightening to find out that ''Over 100 pregnant mothers and the children who came in for immunization came in for their clinics after the CHWs had visited their homes and they reported back by text-messages." The SMS Network brought so much relief and efficiency as fewer appointments were missed. Texting also saved the nurses and staff travel time, by eliminating the need to hand deliver reports to the District Hospital. The nurse was happy to announce that the number of attendance of children on immunization increased from 25% to 80% across the District and the maternal mortality rate has decreased in the communities.
With these remarkable results of the project, it proves that mHealth, in all its simplicity, works miracles in improving health care. Medic Mobile prides in use of basic technology to improve healthcare. At 12.30pm all children and the pregnant mothers had been attended to and had left.