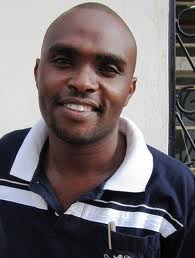 Kilifi, a small town developing into a spectacular resort city has become the home of Jonathan Mativo our project Manager at KilifiKids. Healthcare is not as specified in the requirements of a developed or developing country but indicators for the most relenting services are quite low despite the high population of healthcare stakeholders all with a zeal to improve rural healthcare in the region. Mativo's substantial experience in ICT for development and strong community engagement and facilitation has convinced that he holds the right position for our mHealth project that has been running for the last 2 years now.
Typically, a day for Mativo is with no resounding ups and downs as he wakes up early usually prophesying  to have a 25hour day. Engaging with Ministry of Health officials, Health care providers, other iNGOs, Community Health Workers and patients themselves makes him a voice to reckon with. Our program includes improving care to mothers and children on Antenatal care and Immunization respectively.
"I have had to understand quite a number of healthcare issues since my life now revolves around healthcare providers and I have to share the right technological terms", Exclaims Mativo. Listening to him closely engaging with healthcare professionals made me realize how one could easily mistake the highly ambitious ICT guru for a healthcare practitioner and sometimes for a fellow community health worker in his eloquent facilitation.
"Its not easy managing such a project that has all eyes on you", says Mativo as he refers to the number of partners he has to work within their schedules to have the work done. The Ministry of Health for instance has to fit in his schedule to ensure that CHWs are on site for trainings and also to ensure that the project is actualized. Implementing technology projects would thus require high level of commitment since although our project makes use of the highly populated mobile phone but a computer system must come into play making ICT literacy to the MOH staff a requirement. This is however not the case as it needs lots of pull and push to get the right individuals to work with.
Ideally for a mHealth project to succeed a unique blend of planning, execution and followup skills and experience come in handy. This is what Mativo is actually good at it and thus the perfect match for our project management team.