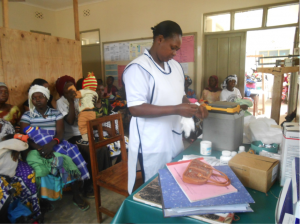 Meet Lillian, a nurse at Ganze Health Facility. It is exactly 8:30 in the morning at the Mother and Child Health (MCH) wing. The room is very noisy with the cries of the infants and small children who are waiting for immunizations. Lillian starts by arranging for the women with varied concerns to sit on their respective benches to avoid overcrowding. The mothers and their children far outnumber the Antenatal mothers (ANC), so most of them have to stand in line for available seating.
"Before we begin, make sure you have your MCH Booklet every time you visit a health facility and show it to the Health Worker. We do appreciate your cooperation and understanding of the importance of coming for the clinic appointments. Keep the good spirit and make sure you continue coming for the rest of the appointments," Lillian announced. The whole crowd cheered and clapped heavily. Lillian took the opportunity to introduce me to the crowd. "
Our Community Health Workers (CHWS) make house visits, keep us informed, and make sure we go for our appointments", explained Kanze, one of the mothers. I noticed more CHWs in the crowd who had accompanied 8 pregnant mothers who had come for deliveries at the facility. This indicated to me that the CHWS was doing well with the follow-ups and monthly feedback. I wished to be with the mothers longer and talk to Lillian more about the program but she was very busy and could only give me a little summary. "What do you think about the program so far compared to the ANC and Immunization uptake in Ganze?" I asked. "Honestly, it has really increased the attendance in the Antenatal Care and Immunization uptake. The number of home deliveries has declined as more mothers are now educated and see the need to come to the facility. Our workload has increased with the new traffic; more women come every day, at all hours. Eve, your project in Ganze District and Kilifi District has really created wonders and we are glad for the improvement," answered Lillian.
Thank you so much Lillian and keep the good work! Congratulations! Kwaherini na muendelee kuja clinic—-goodbye and keep on coming for the clinic appointments.