Meet Jane Katanu, a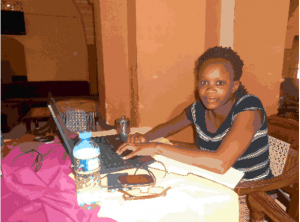 public health professional with a zeal for improving the health and wellbeing of communities and particularly that of two most vulnerable groups: the children and mothers.
"My day as the project manager for the Kilifikids project involves constant and active interaction with a number of partners which all play crucial roles that have contributed to the success achieved with this project.
The community are the direct beneficiaries of this project. The purpose of this project is to meet a need that was felt within the community to improve the health of mothers and children through increasing utilization of antenatal and child welfare services. Talking with the community gives me a realistic evaluation of this project's impact.
The Community Health Workers, CHEWS and Facility based health officials and district and county level based MOH officials are the consumers of the system. The project is designed to provide these users with mobile and information technology based tools that facilitate their work that is aimed at improving both maternal and child health. These users give us the feedback on whether the system is meeting their user needs. They help us to evaluate the effectiveness of the project. They give me insight on what they need and want to be done to help them improve the quality of the services they offer. Unless we perceive and understand the user needs we are bound to produce and implement an ineffective system.
The donor/sponsoring partners-Kilifikids and Rotary club. This important partner needs to be kept abreast with the progress of the project. I keep him informed of the ongoing implementation activities, targets met so far, challenges encountered and efforts made to overcome the challenges.
We work hand in hand in planning for future scale up and monitoring current activities.
Medic Mobile provides the technical specialty for this project. I working hand in hand with Medic Mobile's software designers and developers to ensure that the mobile tools produced meet the user and donor specifications and that they are both effective and cost efficient.
In summary, integrative planning, organization, co-ordination, implementation and monitoring of this Kilifi based project working hand in hand with all the parties involved takes up my day.Thank you."